What Toxins are in your Carpet Fresheners?
If you have carpets chances are that is one of the main places you are sitting, laying and playing with your children. Children themselves spend most of the time sitting and playing on the floor.
You want your carpets to stay clean and healthy, which is often a feat in itself if you have pets or children. There are many carpet deodorizing powders on the market to "help" with this solution. But are they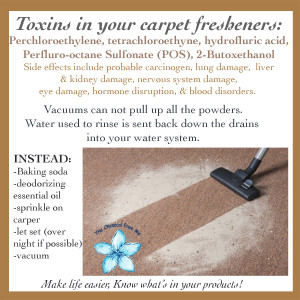 helping or hurting?
Carpet deodorizing powders are meant to be completely vacuumed up after application. Unfortunately, the powder or its residue can easily be left behind.  It may have sunk too deep into the carpet fibers, meaning that even high-powered vacuums won't be able to pull it out.  Carpet deodorizers contain many unsafe ingredients linked to lung damage, kidney damage, nervous system damage, hormone disruption and blood disorders along with probably carcinogens. Chances are they also contain a lot of "fragrance."  Fragrance is the protected trade secret of as many as 3,600 ingredients, many of which are toxic or have never been tested for safety. Once the residue has been left behind it will continue to be inhaled.
Sometimes you still need a solution for your carpet and the smell it has acquired. Like many safe cleaning ingredients, baking soda is your answer.
Grab a glass jar;
Fill it with baking soda and some drops of a deodorizing essential oil.
Sprinkle on your carpet (this works best in a shaker/salt jar) let set.
Vacuum.
Your carpet will be safe and smell amazing, and no one will be inhaling toxins.