Looking for a Non-Toxic Eye Serum?
Eye Serums. They come in the tiniest tubes and are generally full of a host of ingredients, many toxic. They are marketed to "erase" the lines under your eyes making you look younger.  What is the cost?  For the most part, eye serums are full of synthetic chemicals. If yours is lotion based, it likely contains parabens.  A majority seemed to contain 6-8 different parabens. Several I found contained retinyl Acetate (also labeled as Vitamin A acetate or palmitate). This ingredient scores a NINE on the EWG database for concerns including cancer. It is not worth the damage it does to your health.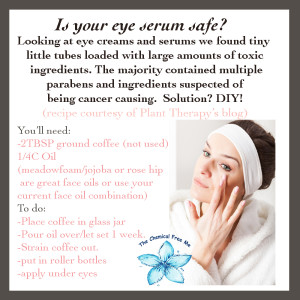 So what's the real solution to helping those fine lines under your eyes without compromising your health? There are lots of ideas and suggestions out there, but we put Plant Therapy's recipe, from their blog, to the test. We like it for it's simplicity and safe ingredients. (Note: we opted to use our own face serum as the included oil, since we are very happy with it's effectiveness!) Caffeine has been shown to work wonders with dark circles and puffiness around the eyes.
What to do:
Place 2TBSP of unused caffeinated coffee in a glass jar (a recycled baby food or any small jar will do).
Pour in ¼ Cup of your oil of choice (we opted to use our Face Moisturizer, Meadowfoam, Jojoba and Rosehip are also great oils for your face).
Allow to sit for one week.
Strain through cheesecloth. (We got ours from Amazon).
Put in an essential oil roller bottle or small pump bottle for easy application.
Enjoy!
Check it out here at:  www.planttherapy.com/blog/2015/08/22/diy-eye–serum/
Download a free checklist Eye Serum Toxins OR Shop Face Moisturizer

Our Face Moisturizer ingredients: Camellia oleifera (Camellia) Seed Oil*, Limnanthes alba (Meadowfoam) Seed Oil, Simmondsia chinensis (Jojoba)*, Virgin Rosa Canina (Rose Hip) Seed Oil*, Virgin Argania spinose (Argan) Nut Oil*, Vitamin E.
*Organic Ingredient
---