All natural is a term that most companies are using, here is what you need to know
I can't say enough how important it is to read labels. Not just the "all natural" (and often misleading) stamp on the outside, but the tiny ingredients printed in the packaging. What if those ingredients aren't there? To me that is a red flag. There is no reason not to include ingredients on a label.
Several weeks ago I went to an event at a friends house. To be entirely honest,  I never read the part about it being a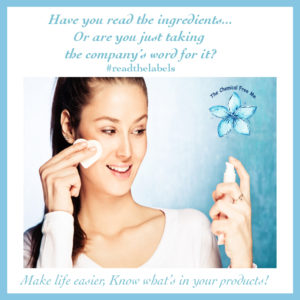 presentation-I went to spend time with my friend. During the presentation of beauty products I was impressed at the discussion of keeping toxins off your body and avoiding ingredients.  I had heard this company name come up a lot recently and that they had cleaned up their line. I am happy with my skin care products and their ingredients, but a few things caught my attention and I was going to buy something to try a new product and be supportive of the person throwing this gathering.
When I started to look at the products I naturally went to read the labels. There were no ingredients listed. That seemed odd to me considering how this presentation stressed how safe and healthy these products were. I picked up a catalog and figured they would be listed there. Wrong again. For a company that is investing it's entire marketing on its safe ingredients (and a list of ingredients they would never use) where are the ingredients? I chose not to buy anything without having that knowledge and later I spent some time looking into it.
Based on my knowledge I know you can't have a water-based lotion without added junk. The water breeds bacteria so there is no way around it. This is why we opt to use oil based products.  I was able to find their ingredients on the website.  They certainly are much "cleaner" than many companies out there-but do not be fooled into thinking there are no synthetic ingredients or ingredients that don't pop up as mild or moderate hazards in anything lotion based. If you are using a lotion based moisturizer for your face, body etc it will contain some level of synthetic ingredients. Always read your labels!
All of our ingredients are listed on our website and our products:
See what is in our face moisturizer: Face Moisturizer
Check out our Moisturizer: Moisturizer
---