Over the past few weeks I replayed my journey in research in finding a laundry detergent that actually worked and wasn't bringing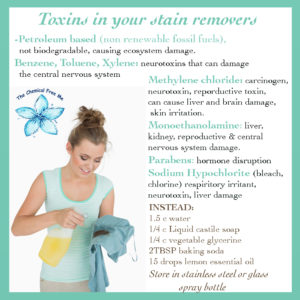 toxins into my home. It was by far one of the hardest products to find a worthy replacement for so hopefully I helped you skip some of the legwork.
Finding a good stain remover was slightly easier. I did try out several "natural" ones but they didn't seem to actually work.
What's in your average stain remover?
Many contain a petroleum base. We covered petroleum a few weeks back so you know that it is not biodegradable and non-sustainable.
Benzene, Toluene, Xylene: They are all neurotoxins that can do damage to the central nervous system.
Monoethanolamine: It can damage the liver, kidney, reproductive and central nervous systems.
Methylene chloride is a carcinogen and a neurotoxin that can also cause skin irritations, liver and brain damage as well reproductive issues.
Parabens are included in different versions which are known hormone disrupters. Some are carcinogenic.
Sodium Hypochlorite is a neurotoxin, liver damage and respiratory irritant.
My youngest gets dirty. He drinks a smoothie several times a day to get his special vitamins and supplements into him. Blueberries hide the taste of everything-but they also stain. We needed something that worked. I did not create this recipe. I have seen countless variations online so I am not sure where this one originated but it has been my go to:
Recipe:
1.5c water
¼ c Liquid castile soap
¼c vegetable glycerin
2TBSP baking soda
15 drops of lemon essential oil /product/lemon-essential-oil/
Note: You MUST use a stainless steel or glass spray bottle when adding a citrus essential oil. Plastic will not hold up.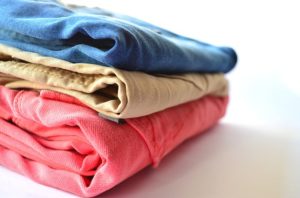 ---