I have never been a make up person-to the extent that my husband still points out that I didn't "bother"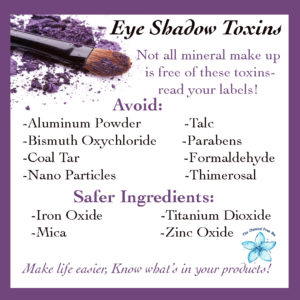 to wear make up on our first date. Now knowing what I know I am so glad I skipped applying all those toxins on a daily basis.
Since I am not the majority though, make up has its place.
What ingredients should you skip?
-Coal Tar:  This has come up in other products we have discussed. Coal tar is a known carcinogen and has been associated with skin tumors, lung, bladder and kidney cancer.
-Formaldehyde: Found in fewer eye shadows these days but is harmful to your liver and can cause skin irritations.
-Parabens: Found in almost all beauty products to give them an extended shelf life. Parabens (propylparaben, butylparaben, methylparaben) can disrupt hormones and are known carcinogens.
-Thimerosal: Oddly banned from most other make up except eye make up. It is a compound based on mercury, which is proven to impair brain function.
-Talc: You may remember the recent lawsuit won against Johnson & Johnson for the talc causing a woman's deadly ovarian cancer recently. Unfortunately it is still sold and in many products. It is a known carcinogen.
-Aluminum Powder: This is what most make-ups use for color. If your make up uses both aluminum powder and the above-mentioned thimerosal it is twice as dangerous. Aluminum inhibits the body's ability to detox mercury.
Bismuth Oxychloride: This is not a heavy metal but it does tend to clog pores and is often the culprit for those who suffer redness and itching from eye shadow. This ingredient is more of a lung irritant and skin irritant than a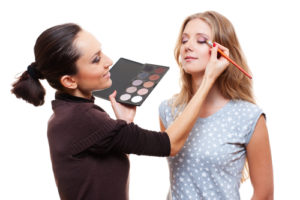 toxin.
Nano particles: such as mica and titanium dioxide if inhaled can accumulate in your lungs and damage your DNA. You will find mica even in your natural eye shadows-be conscious of not inhaling it.
What Is safe?
Mineral make up is the way to go-however be aware that not all mineral make up was created equal.  Many contain the ingredients listed above so be sure to choose wisely!
Iron oxides would be a safer choice for where your colorants are coming from.
Mica is mentioned above as well but it is the safer of your natural ingredients for shimmer and is found in most of even the organic choices. Sericite may also be on your ingredient list.  Sericite is a finer version of mica.
Titanium dioxide and zinc oxide are safe as long as they are not nano particles.
As always-read the ingredients and know what's in your products!
---