The last month has been a focus on laundry detergents and stain removers. It seemed like a good time to add in wrinkle remover. My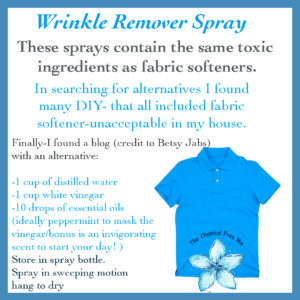 husband used to keep several bottles around. My guess is before I came along folding wasn't a priority so even t-shirts needed some love before wearing.  Several years ago when we eliminated toxin by toxin in our home this one had to go.
As you know from a previous blog post fabric softeners are very toxic.
Alpha Terpineol: Known to cause damage to the central nervous system as well as respiratory problems
Camphor:  Can cause disorders in the central nervous system.
Chloroform: A neurotoxic carcinogen
Benzyl Acetate: linked to pancreatic cancer
Benyl Alcohol:  Can irritate the respiratory tract
Ethanol:  Known to cause central nervous system disorders
Ethyl Acetate: Listed on the EPA's "hazardous waste" list
Fragrance: A combination of any number of over 3,000 ingredients, many never tested for safety. Many include Plthalates.
Limonene: An eye irritant and known carcinogen
Linalool: Also known to cause central nervous system disorders
After researching I couldn't find a safe store bought option. I also found the majority of the DIY options contained a store bought (unsafe)fabric softener. While that is great if you are looking to save money, it is not helpful at all if you are looking to eliminate toxins.
I have found several variations of a non-toxic DIY wrinkle remover. I have put them to the test.  It's not perfect.  I would say it's 30-40% effective. It is helpful in a pinch so we have a bottle mixed up. The easiest solution? Fold your clothing neatly after the dryer or pull out your iron for a few.
Recipe:
1 Cup of distilled water
1 Cup of white vinegar
10 drops of essential oil (Peppermint recommended /product/peppermint-organic-essential-oil/)
Store in spray bottle. Spray in a sweeping motion and hang to dry.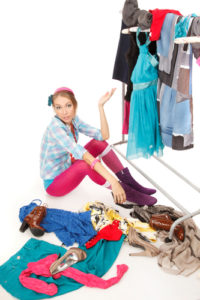 ---