I learned this a number of years ago but was recently reminded when it was time to replace my shower liner again. You likely have at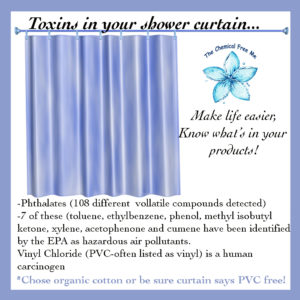 least one (possibly two if your outer curtain is also plastic and not fabric) toxic shower curtain.
What is making your shower curtain toxic? 
The most common culprit is Vinyl Chloride. (PVC) which is a carcinogen. The chemicals involved are released further with a warm, moist environment. (Note: your shower?)
PVC in your shower curtain can produce phthalates, which are linked to ADHD, cancer, type 2 diabetes, and lower IQ, asthma and reproductive issues. Phthalates evaporate into the air as well and then cling to the dust in your home.
Ethylene Dichloride vapor can affect your nervous system, respiratory system, liver and kidneys.
Lead: This is usually familiar to people since we have banned it in many things (pencils, paint etc) Unfortunately it is still out there and according to the Department of Environmental Safety it has also been linked to kidney damage, learning disabilities, damage of the nervous system and anemia.
Petroleum: we have covered the dangers of petroleum in the past few weeks. It has also found its way into EVA and PEVA liners. In exchange for being chloride free they have subbed in petroleum to obtain pliability.
Solutions?
Yes! This one is an easy fix! There are safer and sustainable shower curtain materials. I went with organic cotton. Nylon is another quick drying choice.  Water resistant Polyester can be found as another solution to this problem. Slightly more expensive you can also find Hemp Shower curtains. Making a habit of closing the curtain after you shower allows it to dry out helping prevent mildew on any curtain.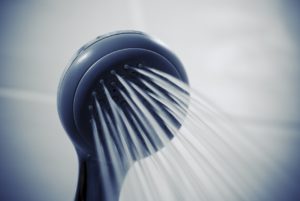 ---