Continuing with our oral health info-another one I was late to the party with: toothbrushes. The bonus is toothbrushes get replaced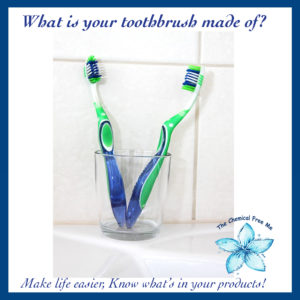 often and are fairly inexpensive so it's an easy swap you can make in the future with a little info.
What may be in your toothbrush even fresh from the package? 
PVC plastics contain Phthalates. As we have learned phthalates are known to increase breast cancer cells, asthma, allergies, infertility and decreased sperm counts. It is difficult to avoid them entirely since they are in so many things, however cutting down every little bit helps.
Another toxin you will find is BPA. Unfortunately if you see BPA free please remember the BPA replacement has proven to be more toxic. This issue is seldom addressed since there isn't an actual solution aside eliminating plastic). BPA has shown to have links to high blood pressure and have effects on the brain, prostate. One of the issues with BPA is that it breaks down when heated. If you are sterilizing your toothbrush in any form that may heat it up you are better off tossing it and getting a new toothbrush.
Solutions?
Personally I like the bamboo toothbrushes. The downfall to this is that if you have more than one person in your family you need a way to make them. Colored nail polish on the handle, or washi tape seem to work. My younger kids seem anti bamboo toothbrush so we have done well with the radius toothbrush. (I have found them at iherb  (https://www.iherb.com/pr/RADIUS-Totz-Plus-Toothbrush-3-Years-White-Blue-1-Toothbrush/63598) or Whole Foods.
The Soft Landing also put together a nice list of other options that are safer than what you may be getting free at your last dentist appointment. http://thesoftlanding.com/bpa-pvc-and-phthalate-free-toothbrush-guide/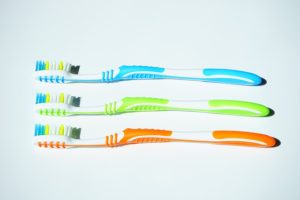 ---