I wanted to address triclosan by itself before I spend some time addressing other oral health care toxins. Triclosan finally made some headlines last year when the FDA decided antibacterial soap was not helping anyone. More about that in a previous blog post. Please keep in mind that it is not phased out of soaps yet! Unfortunately, antibacterial soap is not the only place this ingredient is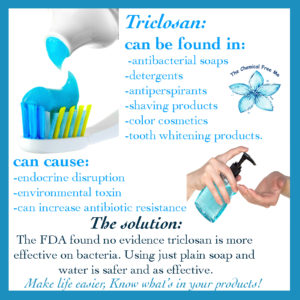 hiding.
What is tricolsan?
Triclosan is an ingredient intended to reduce bacteria. It can be found in many detergents, soaps, color cosmetics, antiperspirants and toothpastes. In addition, it has been proven to disrupt hormones in animals. It has shown to contribute to the rising problem of antibiotic resistance and is harmful to the immune system.
According to a study in 2008 75% of people tested had triclosan in their urine. Unfortunately, we increased antibacterial products even more in the last 9 years so it is likely that number has only risen.
If you have already tossed your antibacterial soaps (if not please do!), it is time to see where else triclosan is hiding in your products.
Toothpaste is a big one. The last thing you want to do is add a toxic ingredient to your mouth twice a day. Triclosan is not a needed ingredient in toothpaste but unfortunately has found a way into many of the more natural ones.
Places you can find it:
Color Cosmetics
Teeth Whiteners
Shaving Products
Detergents
Antibacterial Soaps
Antiperspirants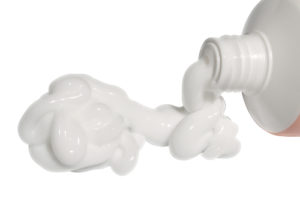 ---